Get the complete experience with our 'full rodizio'
All you can eat Brazilian BBQ meats, salads and other sides for just $49 per person!
How the full rodizio experience works
1.
Sit down, relax, and enjoy a drink while we explain the Bolero dining experience
2.
Visit our gourmet fresco bar. Enjoy items like fresh cut vegetables, imported cheeses, cured meats and authentic Brazilian side dishes
3.
Turn your cue to green side up, signaling the gaucho chefs to begin table side service. Flip it to yellow when you need a break or red to stop!
4.
Enjoy as much as you like from our 13 delicious, slow-roasted skewers at your own pace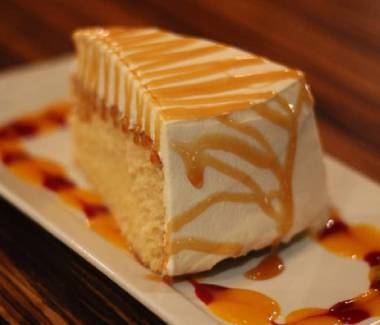 5.
Time to make use of that dessert stomach! Try our famous tres leches cake or choose from our other amazing dessert options.
Alcatra
Traditional Brazilian cut of top sirloin with sea salt and pepper
Picanha
Classic Brazilian cut of top sirloin with sea salt
Fraldinha
Traditional Brazilian cut of bottom sirloin with garlic and parmesan
Lamb Shoulder
Fresh herbs and lightly marinated
Linguica
Locally produced sausage with smoked paprika
Bacon Wrapped Beef Sirloin
Applewood smoked bacon
Bacon Wrapped Chicken
Applewood smoked bacon
Parmesan Crusted Pork Loin
Minced garlic and parmesan cheese
Caramelized Pineapple
Cinnamon and brown sugar
Baby Back Ribs
Glazed in our house made BBQ sauce
Chicken Wings
Cajun spiced
Habanero Pork Loin
Habanero sea salt
Mixed Greens
Lettuce, baby arugula, baby kale
Fresh Vegetables
Cucumber, carrots, cabbage, tomatoes
Caprese Salad
Grape tomatoes, bocconcini, basil, vinaigrette
Quinoa Salad
Sweet potato, portobello, chickpeas, parsley
Couscous Salad
Coucous, diced tomatoes, diced cucumber, roasted corn, diced onion, diced peppers, lemon, cilantro
Watermelon Salad
Watermelon cubes, sliced cucumber, fresh jalapeno, feta cheese, mint, balsamic vinegar, olive oil
Caesar Salad
Lettuce, croutons, parmesan cheese, caesar dressing
Fruit Salad
Melon, watermelon, pineapple
Classic Chimichurri
Parsley, fine diced onion, fine diced red pepper, garlic, oil
Bold Chimichurri
Parsley, garlic, dried oregano, chili powder, red wine vinegar, canola oil, salt and pepper
Bolero Vinaigrette
diced peppers, parsley, diced onion, tomatoes, canola oil, red wine vinegar, salt and pepper
Tres Leches Cake
Traditional sponge cake soaked in condensed milk, whipping cream and evaporated milk
Chocolate Lava Cake
Warm chocolate cake, vanilla bean ice cream
Lime Cheescake
Light and zesty — the perfect compliment to those salty BBQ meats
Coconut Crème Brûlée
We've updated this elegant classic with Malibu rum and toasted coconut to make this a decadent treat